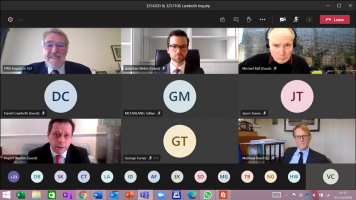 Thanks to the generous donations of all sizes from members of the Lambeth Village community and it's supporters the community was represented at the Public Inquiry into 8 Albert Embankment by:
Michael Ball from Waterloo Community Development Group (WCDG) acting as our advocate

Paul Velluet expert witness on heritage issues (M.Litt., RIBA, IHBC, Chartered Architect)

Dr Paul Littlefair expert witness on daylight (and author of the BRE guide to assessing sun and daylight impacts)

Dr Jess Ferm expert witness on industrial land uses in London (UCL College)

Christopher Woodward the Director of the Garden Museum

David Crawforth one of the co-Directors at Beaconsfield Gallery
The inquiry started on Tuesday 1st December and ended on Friday 18th December 2020.  It looked at the proposed design, heritage impacts on the London Fire Brigade art deco HQ complex, the other local heritage assets including Lambeth Palace, the impacts on the Westminster World Heritage Site, the sun and daylight of local residents, the impacts on amenities and issues such as transport, provision of affordable housing and the use of industrial land.
You can watch the final day of summing up here
You can watch all of the sessions here
You can see and hear member of the community speaking on Thursday 10th December here
You can see all of the 'core documents' via the Lambeth web page for the inquiry here 
It will be several weeks possibly longer before we know the recommendation of the Planning Inspector and the decision of the Secretary of State.  Ultimately this is a decision for the Rt Hon Robert Jenrick MP to take and will depend on the weight given to the perceived benefits and harms that would result from the proposed development.
Want more information?  …contact lambethvillage@gmail.com