Here are some historical notes on the local roads:
Albert Embankment
Named after Queen Victoria's husband and built over the marshes.
Black Prince Road (formerly Lambeth Butts)
Named after Edward the Black Prince who had a residence here during the 14th century.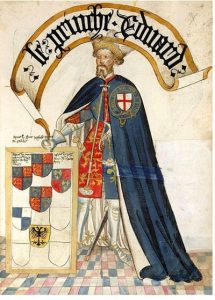 Ingram Close
Named after Arthur Foley Winnington-Ingram, Bishop of London 1901-1939.
Juxon Street (formerly Mill Street)
Named after William Juxon (1582-1663), a churchman and Bishop of London from 1633 to 1649. He was Archbishop of Canterbury from 1660 until his death. He rebuilt the Great Hall, which is now the library at Lambeth Palace, and was involved in work to restore St Paul's Cathedral.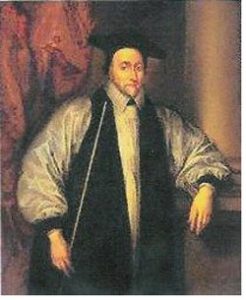 Lambeth High Street (formerly Back Lane)
A place for traders who used the river. A key feature of Lambeth High Street was, and is, the burial ground now known as Old Paradise Gardens. It was consecrated in 1705 and enlarged in 1815 by demolishing some buildings in the High Street and Old Paradise Street. It became a public open space in 1884 when the gravestones were placed round the edge. Side streets off the High Street came to be dominated by the potteries of Stiff and Doulton.
Many streets and lanes leading off the High Street have disappeared, including Calcot Street which was home to Francis Moore. He was a self-taught physician and astrologer who served at the court of Charles II and published Old Moore's Almanack in 1697.
Lambeth Road (formerly Church Street)
Lambeth Road is approximately on the site of the original road leading inland from the point where the horse ferry was based. The river end of it was known as Church Street until 1876, when the subsidiary names Buxton Place, Canterbury Place, Barkham Terrace, Durham Place, Lambeth Terrace and Union Place were all abolished and the whole road renamed Lambeth Road.
Newport Street (formerly Doughty Street)
The school in Newport Street were built by Henry Beaufoy in 1851 as a memorial to his wife, who had taken an interest in a school held in one of the railway arches. All but the southern wing was pulled down around 1904 when the railway was widened. The schools were removed to temporary premises in Auckland Street, Vauxhall, and later to the Wandsworth Road.
Norfolk Row
Lambeth Village was the site of the principal medieval London residence of the Dukes of Norfolk.  They owned a Tudor mansion called Norfolk House, set in acres of gardens and orchards but, by 1680, the large house had been sold. It was initially split into three parts and eventually ended up as a pottery-manufacturing site, creating some of the first examples of English delftware in the country.
Norfolk House is where the young Catherine Howard (fifth wife of Henry VIII) did some of her growing up and the Howard family had a chapel in St Mary's Church. Elizabeth Boleyn, mother of Anne Boleyn, who was a first cousin of Catherine's rests at St Mary's Church. Both Anne and Catherine were married to and executed by Henry VIII.
Old Paradise Street
Today the word 'paradise' has biblical connections. In earlier times the word 'paradise' was often applied to a walled garden and it was sometimes used as an indirect reference to a royal property.
This street was formed in the late 17th century on land which had formerly belonged to Norfolk House. Numbers 2–18 formed part of the endowment left by Archbishop Tenison to the school for girls founded by him on the High Street. These properties were let in the 18th century by the school trustees, on long lease, to Richard Summersell.
Summersell held the offices of bailiff of the manors of Kennington, Vauxhall, Lambeth and Walworth, surveyor of the Parish Roads and surveyor of Thrale's Brewery. His daughter, Elizabeth Pillfold, widow of Alexander Pillfold, surrendered the lease when land was required to enlarge the burial ground. Today we have a new social housing block, Pillford House, on Old Paradise Street.
Pratt Street
A house at the corner of Pratt Walk and Lambeth Road formerly bore a tablet inscribed 'Pratt Street 1775'. The street was laid out on copyhold land held by Sir Joseph Mawbey, and named after his wife's and his mother's family. Of the original houses, only numbers 4 to 8 now remain.
Sail Street (connected to Windmill Street)
The first evidence of a mill's existence is a drawing by Bernard Lens in 1735 entitled 'a view of the Palace of Lambeth' which shows a mill standing before the palace as seen from the river. Apparently it was a tower mill with four sails. It also appeared in Rocque's survey of 1741-5 and later in maps (including one of 1767).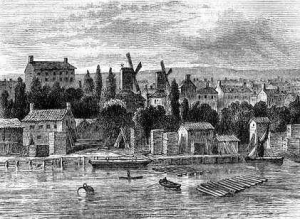 A watercolour by H. Pyall of 1820 shows the mill as a seven-storey tower, circular and stone-built, with an upper ten-sided portion of wood.
Whitgift Street
Named after John Whitgift, Archbishop of Canterbury, who set up the Whitgift Foundation and founded the Croydon Almshouses.
In 1595, in conjunction with the Bishop of London and other prelates, he drew up the Calvinistic instrument known as the Lambeth Articles. Although the articles were signed and agreed by several bishops they were recalled by order of Queen Elizabeth I, claiming that the bishops had acted without her explicit consent. Whitgift maintained that she had given her approval.
John Whitgift attended Queen Elizabeth I on her deathbed, and crowned James I. He was present at the Hampton Court Conference in January 1604, where he represented eight bishops.  However, the following month he died in Lambeth and was buried in Croydon at the Parish Church of St John the Baptist (now Croydon Minster). Here there is a monument to him, a recumbent effigy which was almost destroyed when the church burnt down in 1867.
Windmill Street
The street name references a tall, ten-sided smock mill (the most northerly of three windmills) which were erected around Lambeth Walk in the 18th century. A panorama of the Thames from around 1830 shows it to the right of Lambeth Palace as seen from the river, and its height was about two-thirds of the height of Lambeth Church tower.