Please see below some notes relating to the important history of gardens in Lambeth and the creation of the Garden Museum in Lambeth Village.
Lambeth Marshes, the area shown on the map below, was most likely sourced by the Effra. It was drained by William James, the land agent for the Earl of Warwick. Today Lambeth Marshes is effectively the area we now call the South Bank.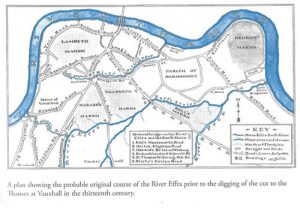 William Curtis is a famous Lambeth botanist. He was born in Alton, Hampshire, where he served an apprenticeship as an apothecary before moving to London and setting up his own business. His business was sufficiently successful to allow him to sell up and devote himself to his great passion, the study of plants. Curtis cultivated some 6,000 species of plants in his garden in Lambeth Marsh and his prime interest was native British flora. Curtis, with the help of Lord Bute, embarked on the Flora Londinensis, an illustrated work describing the flora to be found within a 10-mile radius of London. It was published over 20 years (1777-98) in six volumes.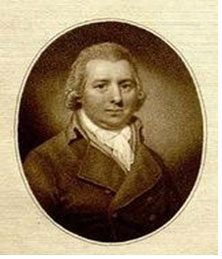 Lambeth Botanical Gardens and Brompton Gardens both belonged to Curtis and he also contributed to the development of the Chelsea Physic Garden. His work, although highly praised, was not remunerated and in 1787 he founded the commercial Botanical Magazine. The principal artists he used were William Kilburn, James Sowerby, Sydenham Edwards and Walter Fitch. This periodical is still being published, although it was renamed Kew Magazine in 1984.
Cuper's Gardens was one of many pleasure gardens that ran along the south bank of the river and was well known for displays of fireworks. It was also described as 'not… the resort of respectable company, but of the abandoned of either sex'. These gardens were named after Boydell Cuper who had been the gardener to Lord Arundel at his property on the north bank of the river. Cuper rented the land and when creating the gardens included a number of old statues from Arundel House.
The land of Cuper's Gardens along the river went under a number of changes of ownership and consequently was known by names including Bishop's Acre, Four Acres and Float Mead.
The Garden Museum was founded by Rosemary Nicholson in 1977 in order to rescue the abandoned church of St Mary's at Lambeth, which was due for demolition. The church is the burial place of John Tradescant (c.1570-1638), the first great gardener and plant-hunter in British history. His magnificent and enigmatic tomb is the centrepiece of the Sackler Garden, designed to reflect Tradescant's life and spirit.