The Lambeth Ragged School on Newport Street was built in 1851 by Henry Beaufoy, in honour of his wife, to help educate the children of the destitute.  In 1904 the school building was reduced in size as a result of the widening of the London and South Western Railway, which we now refer to as the Waterloo Viaduct.  What remains of the building today is occupied by the Beaconsfield Gallery.
Further information on this building rescued from dereliction by Beaconsfield Gallery can be seen on their website here
The Beaufoy Institute on Black Prince Road was built in 1907 to provide technical education for the poor of the area and ceased being an educational institution at the end of the 20th century.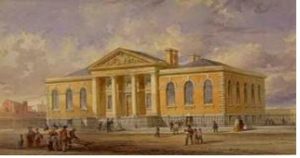 Picture of Lambeth Ragged School on Newport Street, built 1851.