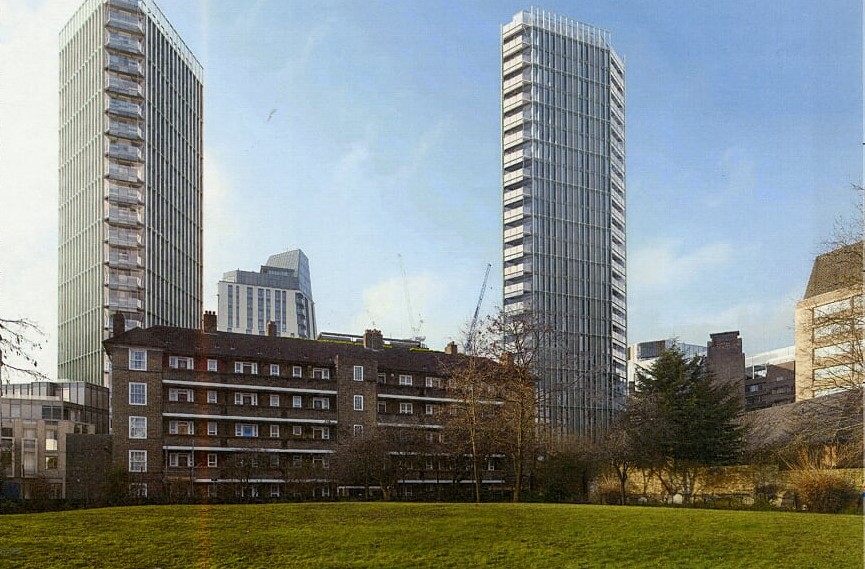 The picture above is a representation of the view from Gabriel House (on Old Paradise Street) of the two proposed towers on Whitgift Street. The proposal is being made by the developer U+I as part of a redevelopment of sites known collectively as 8 Albert Embankment. This comprises the London Fire Brigade HQ, the workshop site on Whitgift Street, and the corner site where Newport Street meets Black Prince Road.
The towers are 24 and 26 storeys high and will rise up on the south side of Whitgift Street opposite existing local buildings of between 6 and 2 storeys, including Whitgift House.  These towers have grown taller between the second and third public consultations and are far taller than the 13 and 15 storeys proposed and turned down at Lambeth's Planning Committee in 2011.
Whilst a proportion of the proposed 400 or so residential flats will be affordable, these are principally being built on land that is designated for employment use and should only have other uses by exception. If you know the area then you know this is in a neighbourhood with a significant number of social housing estates and no other industrial employment sites are available.
The planning process exists to balance interests, and the Lambeth Local Plan that makes designations for housing or employment goes through a public enquiry. So the fact that the site on Whitgift Street (the current London Fire Brigade workshops) is designated as an industrial employment site is because the evidence justifies it.
If you assume that the 400 or so flats will be occupied at the London average for occupation of 2.48 people (taken from the GLA evidence base for Housing in London 2015) then close to 1,000 additional people will be densely packed into the towers with no apparent additional amenities, such as health services or open green space.