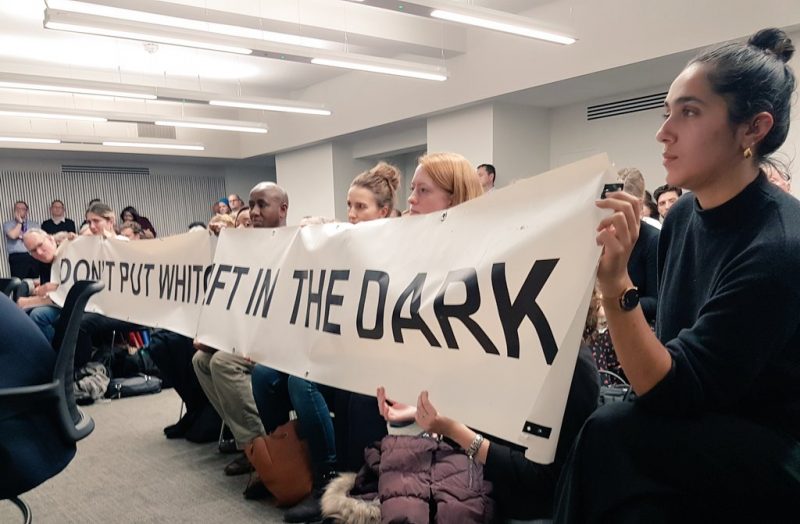 Last Tuesday, Lambeth Council's planning committee voted – by a narrow margin of 4 to 3 – to ignore 3,000 petition signatures, hundreds of objections on the council planning website, Labour ward councillors and dozens of us gathered in the committee room, to approve the 8 Albert Embankment application.
This is a massive disappointment, to say the least. After hearing moving testimonies from the residents, the councillors were split 3 for/3 against, and committee chair Clare Wilcox chose to exercise her casting vote in favour of the development, seemingly for little reason other than that it had been several years since the last proposal to redevelop the site. Major issues of daylight loss, damage to local heritage, reduced levels of affordable housing and over-density, were cast aside, for a museum that could have been build through other means, a high-end hotel and hundreds of luxury investment flats that may well sit empty. Clearly this system isn't working for local people.
The planning committee offers no appeal for the community, but the Mayor of London can 'call in' the decision to refuse it. 
The Mayor needs to hear from all of us IMMEDIATELY as he only has 14 days to call it in! Information on writing to Sadiq Khan can be found here.
There is also the potential for a Judicial Review of the planning committee decision. A Judicial Review is a legal challenge to the decision making process and would mean a reassessment of the application.  It would require a fighting fund of roughly £20-25,000.  That's a lot of money, but if we set up a funding group and many people chipped in, we could do this.
We need to take some time to assess our legal position, but if you know already that you are up for the next fight please get in touch. (lambethvillage@gmail.com)
We also want to host another campaign meeting for those who want to build pressure outside the halls of power in Lambeth. We will send another update around shortly with a date in the New Year, but in the meantime, get in touch if you'd like to be involved.
Please write to the Mayor now and ask him to call in the decision and REFUSE the 8 Albert Embankment application.