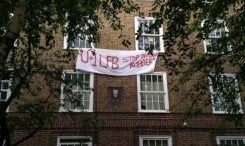 On 4th August 2021 U+I submitted a claim for proceedings under s288 of the Town and Country Planning Act 1990 against the Secretary of State's decision to REFUSE planning permission for 8 Albert Embankment.
U+I and London Fire Brigade continue to be intent on pursuing their 'departure' from planning policy application with it's 3 towers over 30m and 2 skyscrapers at @90m, putting 400+ local residents below national BRE daylight standards and causing great damage to local, national and world heritage.
Is this a Judicial Review?
No, it is not a JR (Judicial Review). It is a statutory challenge under section 288 of the 1990 Planning Act to the High Court, arguing that certain legal aspects of the cases have not been properly considered and/or decided by the Secretary of State.
Will the court look at the planning merits of the decisions?
No. The court can only look at the strict legal aspects of the cases. For example, did the Secretary of State legally carry out the process correctly when he assessed the planning balance on heritage matters? The Judge will not be able to consider the planning merits.
How successful are challenges?
In 2017, for example, there were 192 challenges, only 14 of which succeeded and 24 failed (38 in total). The remaining cases (154) never even made it to a full hearing as the court decided at the initial review stage that they were of no merit and should not even be considered.
What will happen if U+I succeeds?
The Judge can only remit (send back) the decision to the Secretary of State to decide it again. The Secretary of State will then have to correct any legal concerns.
Why is U+I challenging?
Quite probably U+I is under an obligation in their contract with the London Fire Brigade to pursue the planning permission to the bitter end – which is a statutory challenge.  This is the second time that the London Fire Brigade has failed to get permission having gone through a public inquiry, a failure that will require investigation.
How long will it take?
Anywhere between 6 months (if the court rules the challenge has no merit) to 18 months for a full hearing and judgement.
Who pays the costs of the challenge?
Automatically, it is the loser(s). 
Lambeth Village remains confident that this 'departure' from policy planning application which is so clearly out of character with the local area, causes major adverse daylight impacts on social housing residents and with consequences for world heritage is unlikely to succeed. 
We had hoped in September to start working with the London Fire Brigade and other local stakeholders towards a new and better plan for these sites.
We had hoped no further public money would be spent pursuing a 'departure' from policy planning application.