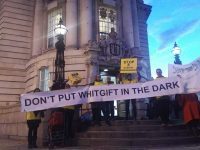 We have been asking to see the sun & daylight study assessment by the Council for months.  Twice we have submitted FOIs to have this document, once in May and again in August 2019 – both times because we were getting no answers.
More recently we have been emailing Jack Hopkins the leader of the Council, starting on 4th November and still not even an acknowledgement!
Sun and daylight on neighbouring properties and in particular Whitgift House and 2 Whitgift Street were key in the planning appeal that ended the previous application for planning in May 2013.
Each time we ask for it – we are told the assessment is still in draft.
Is the assessment being written to suit a particular answer?